Welcome to Raven's Retreat
Do you miss your dog when you're on holiday? - then bring him along !
You'll have - a run and kennel to leave him in and a pet sitting service - accommodation for you in a quirky log cabin - a wood to walk through off lead - peace and quiet - all in a little bit of paradise in Mid Wales.
Great too; for that romantic break you've been promising yourself! And, although not officially designated, we do have wonderful DARK SKIES.
Accommodation for two adults and 1 or 2 children aged over 9.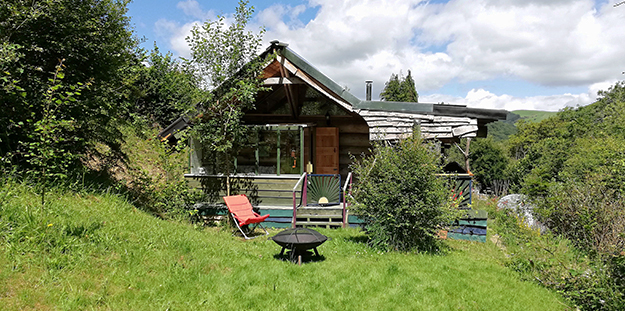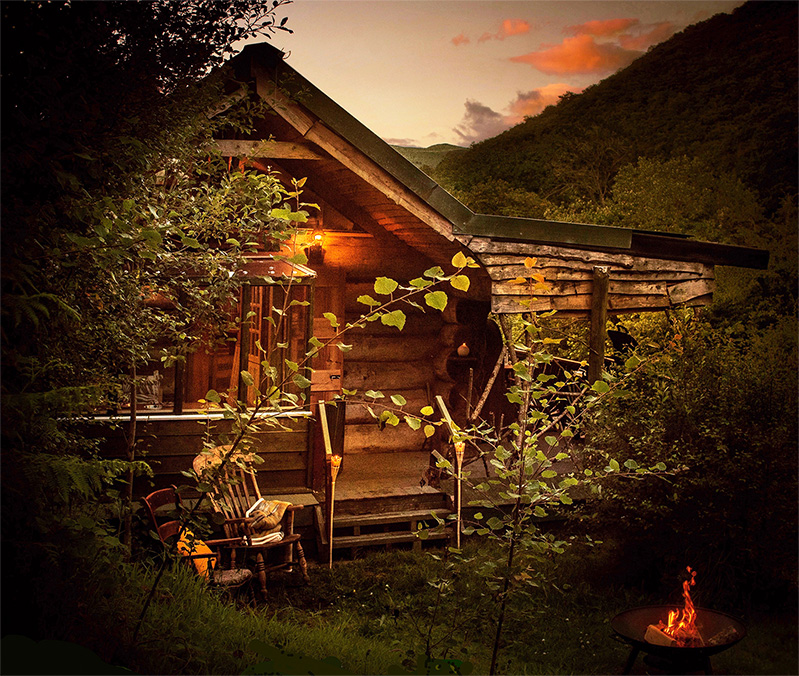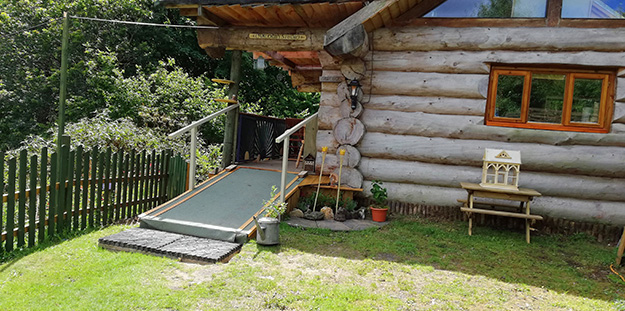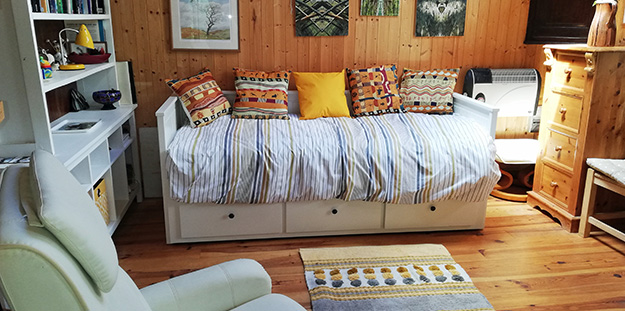 Discover more about Raven's Retreat
Reviews

Sue and Roger came across as splendid people. Extremely friendly and laid-back, they'll make you feel at home as soon as you pick up the keys. After an introductory chit-chat and meeting of the famous dog Raven, we were given a quick whistle stop tour.
During our stay we were left completely alone to enjoy the hut but provided contact details in case we needed to get in touch. As we ordered a breakfast hamper, this was brought down and left outside as discussed. Before we arrived, email communications were very speedy with Sue helping to clear up a few queries and giving a few requested recommendations.
Overall, our trip to Raven's Retreat couldn't have been more welcomed and we'd encourage anyone to do the same.

Read more on tinyecohomelife.com

Sue and Roger have created such a beautiful little retreat for their guests, their hard work on it has truly paid off; it was delightful and just as is advertised if not better. They greeted us kindly and warmly and also respected our privacy. Coming from busy jobs in London it was a recipe for calm and happiness. We were so chuffed with our stay that as well as 100% recommending it to others, we will also make many efforts to return if anywhere at all near them. Thumbs up :)


Raven's Retreat is probably the best place you can stay at in mid Wales.    Sue and Roger (who are very friendly and accommodating) have done an amazing job at creating this little getaway spot in the middle of the woods.  Whether you want to go for walks, explore mid Wales or stay in bed with a book this is the place to stay.  And Raven the dog is the friendliest little guy.  Again, thank you for a great weekend and we will definitely come back.  Adam and Talita.  Thank you.


This place has left memories that will last a lifetime.  Everything was perfect from the moment we arrived to the moment we left (which we didn't want to do).  The small personal touches from the amazing hosts were above and beyond.  If you are looking for an escape into nature with the warm comfort of a log fire and cosy bed - you have to stay here.  PS. Make sure you look through the amazing artwork.  we spent a night looking and discussing them - took our breath away.  We will be back!!


Raven's Retreat was just what two teachers and their ten month old puppy needed after a very busy term!  Sue and Roger were the best host and have created the most stunning little homely escape away from the hustle and bustle - but with Wi Fi if you miss it :).   Our dog, whose recall is somewhat lacking, could literally roam free and enjoy the surroundings.  Sue's breakfast hampers were such a lovely thought and made our break even more luxurious!  We can't wait to come back!"


By far the best place we've ever stayed at through Airbnb! Sue and Roger are the perfect hosts and they couldn't do enough for us during our visit, but without being invasive of our space. The BBQ outside and log burner inside were added bonuses. We're already planning our next trip! Thanks again Sue and Roger, you gave us the perfect weekend away!


INCREDIBLE! We travelled from Hampshire which was a five hour drive with traffic, for just one night for Michael's birthday. We wanted somewhere beautiful and remote to enjoy a child free romantic weekend with our little pooch Rosa in tow. From my initial enquiry I knew I had found the perfect place. The owner was so accommodating and offered to provide balloons and a cake to make it special. The drive was wonderful with stunning views that became even more outstanding the closer we got to our destination.


We literally couldn't find a single fault. The breakfast hamper was delightful and the hosts were more than happy to cater for vegetarians. I could gush about this place all day. It was perfection! We will definitely be returning.


In terms of things to do locally, there are some lovely waterfalls nearby, loads of walks, the Clywedog reservoir and Llanidloes. It's also an option to go visit places like Aberystwyth which is an hours drive. Moreover, there were lots of other options provided in the welcome pack.
From my research of places to stay in the area, I personally couldn't find anywhere better when considering price, location, facilities and quality. From my experience, I wouldn't recommend anywhere else.
We will be returning and may even buy a dog to take advantage of all the amenities.


Discover more about Raven's Retreat